Suetonius (69 AD to 122 AD)
In 27 BC, Octavian took the name Caesar Augustus. Here is an excerpt from the 'Biography of Augustus' written by the Ancient Historian, SUETONIUS."
He was unusually handsome and exceedingly graceful, though he cared nothing for personal adornment. His hair was slightly curly and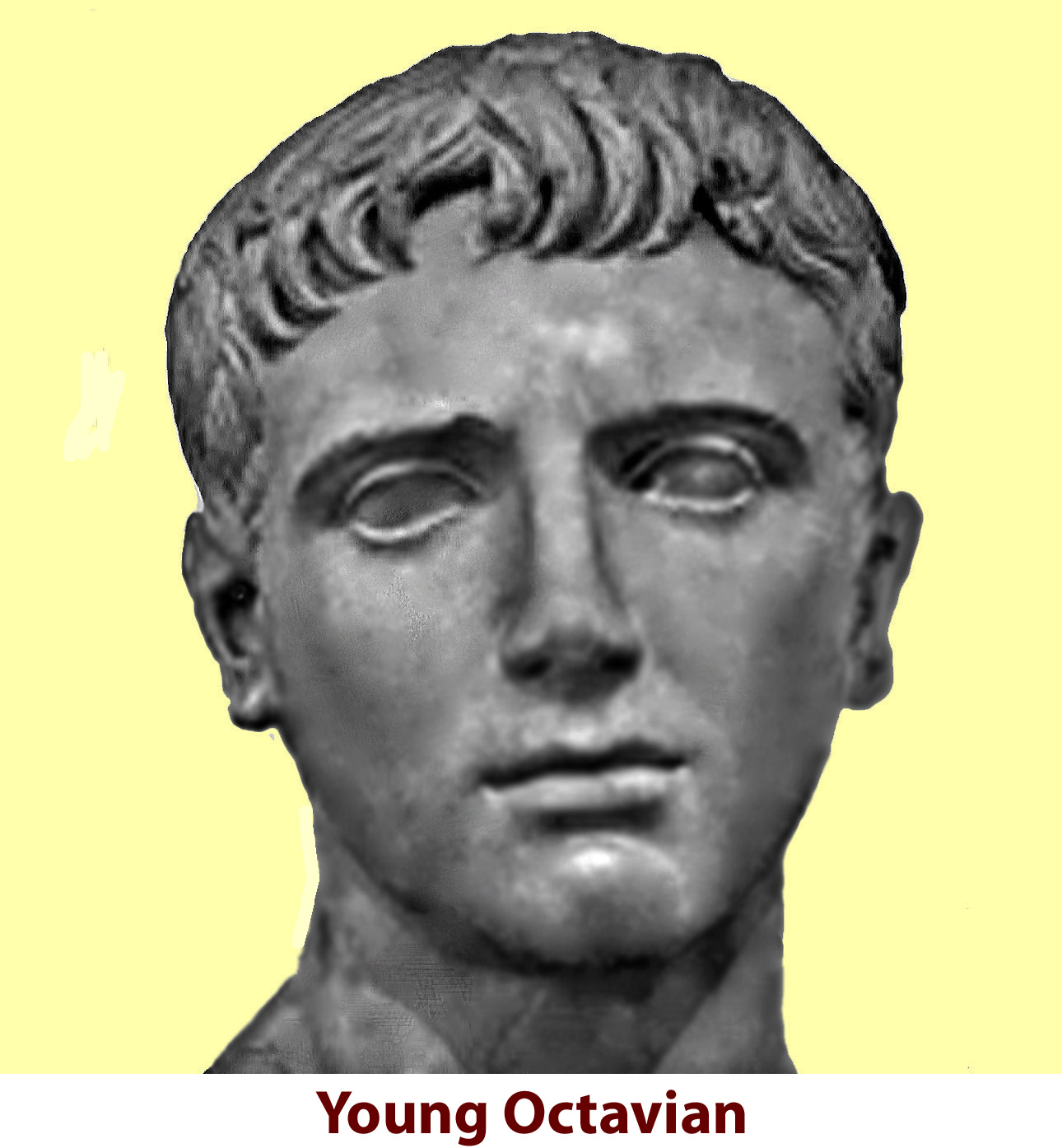 inclining to golden. He had clear, bright eyes, in which he liked to have people think that it was from a divine power. His expression was calm and mild. He did not readily make friends, but when he did, he clung to them with unfailing loyalty, even condoning their faults, provided they were not too great. .
Read more....
Paperback on amazon…… $17.78 (usd)
$0.99 Reduced Price for #1 kindle eBook
     Assassination-44BC is the
1st chapter of both the Paperback
    "Octavian: Rise to Power"
and its full Kindle eBook version
    "The Octavian Chronicles"
Click  Assassination-44BC to buy it for $.99 on Amazon. It will help you decide about reading the full story, either in Paperback or  Kindle.
Author's Note
Octavian was born in 63 BC. He took the name Caesar Augustus in 27 BC when he became the first Emperor of the Roman Empire.
He's been considered arguably one of the greatest political rulers to ever walk the earth.
It is written in the New Testament:
"Now it came about in those days that a decree went out from Caesar Augustus that a census be taken of all the inhabited of the earth" - Luke 2.1.
The story begins in 44 BC when 18-year-old Octavian is away at camp and he gets the news that his great-uncle Julius Caesar has been assassinated. Cunning and charismatic, he goes on a path of vengeance that doesn't end until he becomes Rome's first Emperor in 27 BC, ruling Rome in relative peace for the next 42 years until his peaceful death in 14 AD.
Free Octavian MAP downloads
You might want to consider #1 Assassination-44BC on Amazon at the special price of $0.99.


It's a great introduction to the full historical story!

And, if you're interested in a "free" Map from the above drop down menus, you can download them "for free" in PDF format!