From eBook; Octavian Chronicle #7, Treaty of Brundisium-40 BC
In September, 4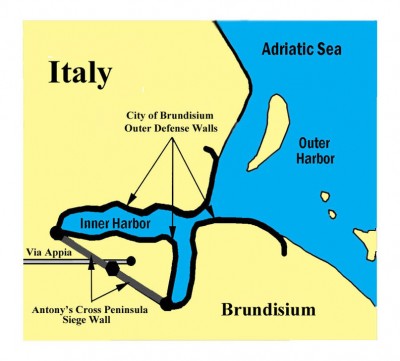 0 BC, Antony and Octavian met in Brundisium, a port city on lower east coast of Italy. A series of misunderstandings had brought them to the brink of a civil war. Antony had been unaware that his wife, Fulvia, and his brother, Lucius, had started and fought a civil war against Octavian in Italy. The primary motivation for the war was Fulvia's jealousy of Cleopatra. Antony was living with her in Egypt at the time, and Fulvia thought the war would induce him to return to Rome to join her, but he didn't. After she and Lucius lost the war to Octavian and his commander, Marcus Agrippa, in Perusia, Antony heard about it and sailed to Italy. When Octavian's soldiers and the citizens of Brundisium blocked him from him entering their port, he became furious and made preparations for a war. After a few skirmishes, cooler heads prevailed, and the two of them sat down to discuss their grievances, one against the other.
Excerpt:
"Alright, let's put that behind us," said Antony. "I'll concede that it was a misunderstanding. Your army and the people of Brundisium didn't know I was coming, but what about your taking control of Calenus' legions? How do you explain that?"
"I answer that three ways," said Octavian. "The first is that your brother and your wife started an unnecessary war with me. When Calenus died, Ventidius and your friend here, Ahenobarbus, were in northern Italy. I didn't want them to take control of those legions and take up arms against me."
"I can understand that," said Antony
"Another reason that I took them over was that I didn't want them to be leaderless. If they were, Sextus could've easily sailed up there and taken them over."
Maecenas was pleased to see Antony nod his agreement on this as well.
Octavian finished with his third point. "Finally, I took those legions over for you."
"Do you expect me to believe that?" asked Antony.
"Is your brother, Lucius, still alive? Why would I spare your brother's life even though he attacked me if I wasn't your ally? Besides, you can have those legions and Gaul if you want them. If we have a true alliance, it doesn't matter which of us has control of them. Besides, I have my hands full getting the soldiers settled." Octavian sat back in his chair.
"That's true, lad," Antony answered thoughtfully. "If we have an alliance, then it doesn't matter, does it?"
Maecenas could tell that Antony was softening.